Stuffed Cabbage (Golabki, Holubki)
My family loves Galumpkis, or better known as stuffed cabbage rolls, we don't make them often enough. Growing up we ate these every holiday, they are a special treat! They bring back fond memories, of helping my Gran in the kitchen making these as we chatted away together. It takes a while to make so make sure you have a few hours to make this dish, but your house will smell wonderful and you will be rewarded with some tasty rolls! You can always prepare them ahead of time refrigerate and just stick them in the oven the next day if you wish. They also freeze well.
Ingredients:
2 to 3 medium heads cabbage
4 tablespoons olive oil, divided
2 tablespoons butter, divided
2 cups uncooked long grain white rice
4 cups hot water
1 medium onion
4 cloves garlic
1 lb ground mild pork sausages
1 lb lean ground beef
1/4 to 1/2 cup seasoned bread crumbs(optional)
2 eggs
3 sprigs fresh dill, finely chopped (optional) more or less to taste (for the meat ones I use less)
3 sprigs of fresh parsley
1-1/2 to 2 teaspoons salt
3/4 teaspoon black pepper
1 jar sauerkraut (optional)
1 container (26 to 28 ounce) quality stewed tomatoes
1 tablespoon brown sugar
1 can tomato sauce
2 cans Heinz tomato soup (it's more tomatoey than Campbells)
tomato juice or water to moisten rolls
6 strips smoked bacon (don't like bacon leave it out, want more go right ahead!)

Preparation:

Remove the cores from each head of cabbage and remove 2 or 3 of the toughest outer leaves. In a large soup/stock pot add enough water, to submerge a head of cabbage. Bring to a boil then turn down to a simmer. Parboil cabbage until slightly tender. Remove the outer leaves as they become tender use tongs they are very hot - do not overcook. Drain well and let cool. You will need about 50 plus leaves to accommodate the quantity of meat mixture in this recipe. Set aside the remaining inner portion of cabbage for later.
You can also freeze raw heads of cabbage in advance and defrost them to soften the leaves for rolling.
For the rice, put the onion 2 cloves of garlic and 1/4 cup of water into a blender or food processor and process until smooth. Heat 3 tablespoons of olive oil or vegetable oil and 1 tablespoon of butter in a large pot with lid over medium heat. Add the uncooked rice and stir until well coated with the oil and toss until the grains get toasty about 7 minutes. Stir in onion mixture, combine well, and continue cooking for another minute.Pour in the 4 cups of hot water minus the 1/4 of water used for the onion mixture and add 1 teaspoon of salt, lay parsley sprigs on top. Continue to cook for 11 or 12 minutes so it's parboiled. Remove from the heat discard the parsley and set aside to cool.
My brother and I like the mixture for the rolls just like this, no meat with just a bit of added chopped dill and some of Jane's Krazy Mixed Up Salt to taste ( no worries if you don't have it), served with some of the tomato sauce, these taste just like my Babcia made for our Polish Christmas Eve! For Easter we made a roaster of each, one dill and rice and one meat and rice.
To ensure easy rolling, it's best to pare away the thickest portion of the center vein of each cabbage leaf. To do this, turn each leaf outer side up and insert the point of a paring knife just under the thinnest part of the center vein.
Slice away the thick portion of the vein, being careful not to make holes in the leaf (see photo).
Place the pork and beef ( you can use all beef or ground turkey instead) in a large bowl. Add the egg dill, bread crumbs, salt and pepper to taste and the cooled onion-rice mixture.( Sometimes I add 2 tablespoons of Fant Seasoning Mix for Stuffed Peppers and Cabbage or McCormick burger seasoning mix. instead of the extra salt to make them more tasty, you could also add a grated carrot and finely chopped green pepper to give them a little something extra) Mix well making sure that the seasonings and rice are evenly distributed throughout the meat - using your hands works best.
To roll the cabbage, place a leaf, inner side up on a towel. Add about 2 tablespoons of the meat mixture (more if you like your rolls larger) to the bottom center of the leaf. Roll up, using just enough pressure to make a firm roll without splitting the leaf.
Using your thumb and middle finger, gently tuck the ends of the cabbage into the meat mixture, forming sort of a dimple on each end. Set the finished rolls aside.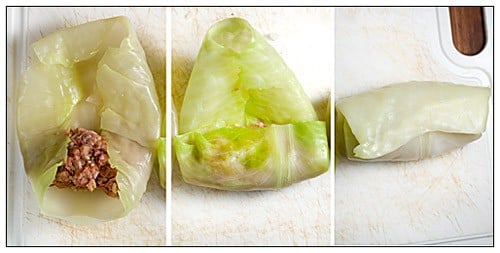 Once you have completed rolling all of the meat mixture, take the remaining cabbage centers and place them to cover the bottom of a large roaster.
For the Tomato Sauce
In a large pan add 1 tablespoon of butter and one olive oil, add two crushed cloves of garlic, saute on medium for a minute or two until it's fragrant but not golden. Add stewed tomatoes and break them up, I just crush them up with my hands or a big spoon, then add paste, tomato soup and brown sugar, simmer for about 10 minutes.(some people like the sauce more sweet and sour you can add 2 teaspoons lemon juice and 1 teaspoon Worcestershire sauce to the tomato sauce if you like it like that)
Preheat the oven to 350°F. ladle a few scoops of the tomato mixture over the bottom of the roaster that is covered with the extra cabbage leaves . Mix sauerkraut to remaining tomato mixture in saute pan for later. I added sauerkraut for the first time this Easter and it was so good I'm going to add it from now on but of course we like sauerkraut, if you don't then just leave it out.
FREEZING:
At this point you can freeze your cabbage rolls by placing them spaced evenly without touching on a baking sheet and place into the freezer until completely frozen. Then place the individually frozen cabbage rolls in a freezer safe plastic bag and back into the freezer until ready to use.
Layer the cabbage rolls close together in roaster. Spread a layer of tomato sauerkraut sauce. Place any remaining rolls in a second layer toward the center of the pan. Top with the remaining sauerkraut-tomato mixture, if needed add a bit of tomato juice or water, evenly over the rolls, making sure all the rolls are moistened.
Lay the bacon strips over the top, cover the pan with roaster lid or heavy-duty aluminum foil and bake for about 1-1/2 to 2 hours or until meat is fully cooked and a cabbage roll can easily be cut through with the side of a fork. removing after one hour to check if you need tomato juice or water to keep the rolls moist.
To really enjoy the cabbage-tomato sauce, serve over mashed potatoes or with buttered dinner rolls for dipping.
Makes about 50 rolls or more with additional chopped cabbage on the side

You could also do these in the slow cooker
Place the cabbage rolls into the slow cooker (seam side down). You will end up with two layers of cabbage rolls on top of the loose leaves. cover with bacon pour tomato mixture over top. Cover and cook on low for 6 - 8 hours.